See on Scoop.it – Web Project Management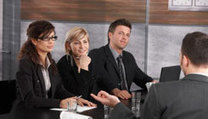 How do we get across the message that PM skills are more important than technical skills? We're glad you asked.
TonyaPriceConsulting's insight:
I highly recommend this article for anyone thinking of hiring a Web Project Manager. Most Web Project Managers start out as technical people: designers or programmers, user interface designers or content writer. This article discusses firms that want the Web PM to act as a backup if someone is sick, I've been in interviews where companies design the position to be part-time Web Project Manager/part-time Content Writer or programmer in a misguided effort at saving money. This approach is doomed to failure because projects will inevitable run into miscommunictions, cost overruns and miss deadlines. This hurts the organization's reputation and gravely damages trust between stakeholders and the Web team.
Why is this dual approach so ill conceived?
The primary job of the Web Project Manager is to ensure communications between team members, stakeholders and upper management. Any of the technical positions require concentrated work periods. You cannot succeed in a creative position if you are continually interrupted. A Web Project Manager's job by definition is one in which you are seeking information and relaying information. Think of all the audiences the Web PM deals with: vendors, finance, people throughout the company, meetings with VPs or Directors, Marketing staff, Sales staff and the list goes on and on.
Small firms have no choice, but fulltime Web PMs is smart business for others
If you are in a very small firm with five or less people or if you are a solo design company you can play both roles, but if you are in a situation where the team must handle more than one project at a time, the Web team will fail if their Web Project Manager is trying to code instead of doing their full-time and then some job.
Solution?
Don't agree to be a failure. Instead, hire team members who can back each other up. Content writers learn UX design. Many graphic designers know some programming. Hire at least one person who has had multiple roles over the years. Propose this as a solution in your interview and you'll get the job and lead your team to success.
See on news.dice.com